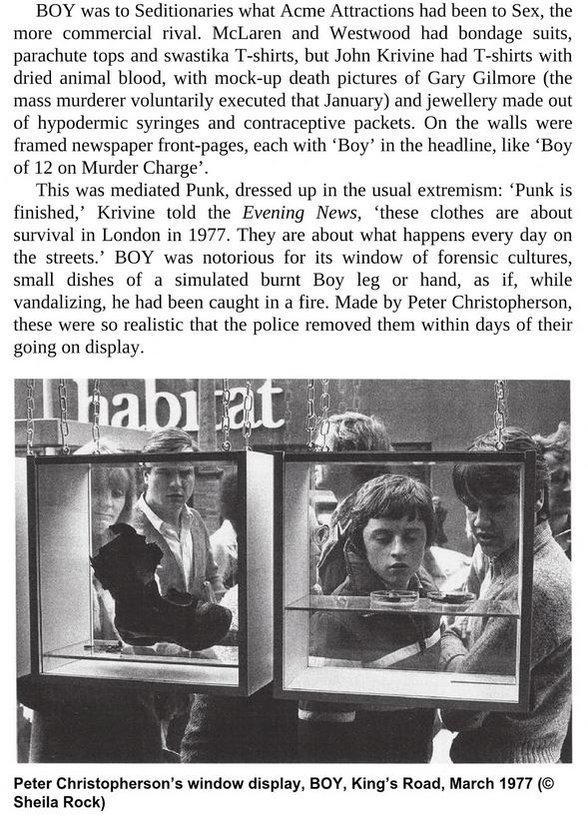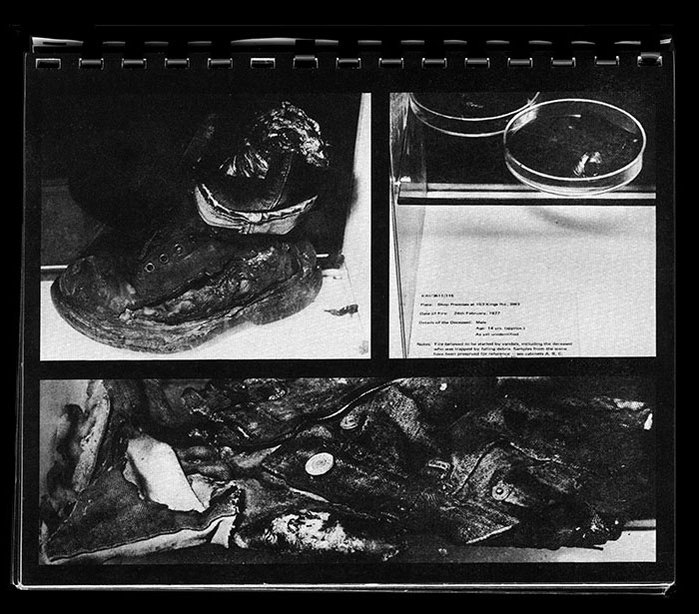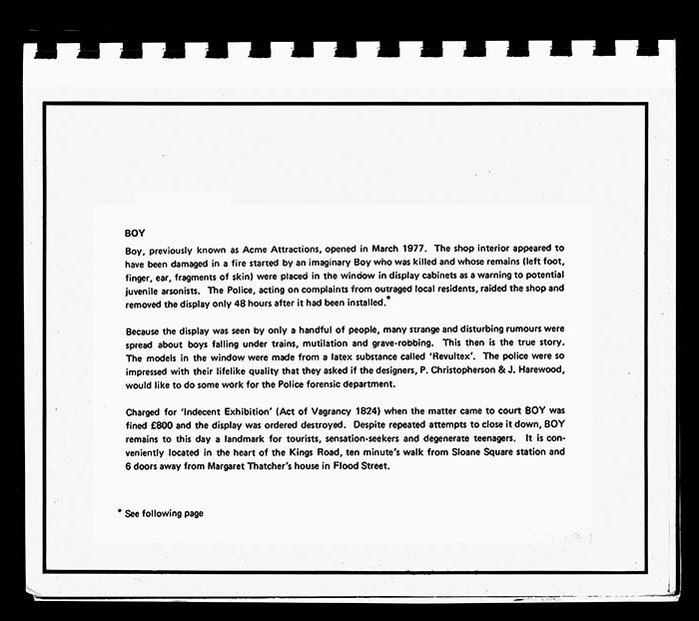 "The first advertisement made for the infamous London
fashion store, a large format poster designed by Peter Christopherson.
Boy was formed in 1976 on King's Road by John Krivine and Steph Raynor.
Christopherson at that time was both a member of Throbbing Gristle, and
of the design company Hipgnosis, who had been responsible for some of
the most recognizable album covers of the era, including Pink Floyd's
Dark Side of the Moon and Wish You Were Here. Krivine invited
Christopherson to create the initial design for the store after seeing
COUM's poster designs for the Citizen's Theatre in Glasgow.
Christopherson was responsible for the initial concept and
design of the store, including the typography, and also the window
displays, which showed an unconscious or dead young man. Genesis
P-Orridge described them to Jon Savage as follows: "The idea was that a
boy had climbed in to steal stuff, accidentally knocked over an electric
fire and set the place on fire and burned to death. And these were the
leftovers of the boy. So there was a Doc Marten boot with bits of flesh
and there was a bit of his jeans and buttock and a finger with a ring
and some mouldy hand. And they were in little forensic dishes in these
glass boxes like you would find at the Black Museum. So this was just a
parody of a mixture of forensic evidence and vandalism." – [P-Orridge,
quoted in Ford 7.4-7.5]
The window display was provocative enough that the windows
were soon vandalized, a problem that would dog the early days of the
shop. Boy London would go on to become on the most influential and
controversial fashion lines of the 80's. Christopherson would go on to
form Coil with John Balance. A rare example of the early work of the
most innovative and provocative designer of the period, or of any
period."