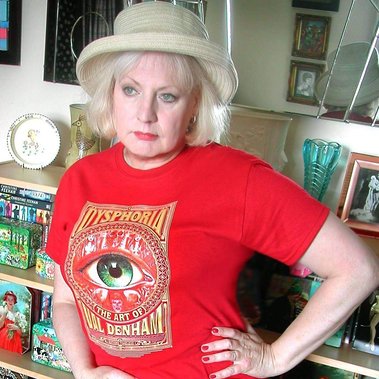 VAL DENHAM

Val Denham is an artist, poet, musician and Transgender icon from Yorkshire, England.
Born 14 November 1957 in Leeds, UK, she has been creating her own universe since being a little boy.

Val received her formal training at Bradford College, England in the late 1970s. She has been described as "one of the greatest colourists" by abstract artist Patrick_Heron, visiting tutor at the Royal_College_of_Art in the 1980s. In the early 1980s became involved in the then nascent Industrial_music scene, contributing cover art and music to some of the key acts. She famously created the art and visual concept for Marc Almond's Marc_and_the_Mambas. Her art explores her own inner workings and the transformations she has gone through. She is also an accomplished portrait artists.
She has been labelled an "Outsider_artist" in some quarters. However, she describes herself as a Cleaning Lady.

Val perfectly explains her modus operandi: "I employ a figurative Figurative art and non-figurative Abstract art semi surrealist symbolism...my art is a kind of therapy...the internal map of my neuroses, severe Obsessive Compulsive Disorder and Gender Dysphoria...analyse the surface of Tranart (Val's name for her own art) and you will glimpse neurotic hieroglyphs trying to describe what it is to be me...meanings are always masked in a kind of visual code within my work. Even now I employ obscuring patterns and imagery; though the reason to do so no longer exists...I no longer live a double life suppressing my true nature, but the code remains."

She once did some record covers for Marc Almond, Throbbing Gristle, Psychic TV and a few others.

She also releases her own idiosyncratic songs for her ever growing fan base across the world.


Published by Timeless Ed. :
"Dysphoria" - 2012 - sold out

"Tranart" - Book - 2015 - Available at the Timeless-Shop
"Cameron" - Giclee print - 2016 - Available here : Timeless-Shop